The Maxisys MS909 is a 10-inch TFT-LCD screen with a high-resolution capacitive touch screen tablet. MaxiSYS MS909 has the Android 7.0 operating system and the comprehensive OE-level vehicle coverage, with an octa-core processor (2.3GHz Quad + 1.7GHz Quad) and 128GB of RAM. Its functions are mainly used for diagnostic guidance and testing components to confirm maintenance. The MS909 is equipped with a combination of VCI and vehicle communication tools — MaxiFlash VCI — to provide faster dual Wi-Fi vehicle and network communications. It also has front and rear cameras and a rechargeable lithium-ion battery that lasts up to eight hours.
Best Autel Professional Car Diagnostic Tool: Autel Maxisys MS909 vs Maxisys Elite vs MS919 vs Maxisys Ultra comparison Chart( View table image )
:
HARDWARE
Autel MSEILTE
Autel MS909
Autel MS919
Autel MSULTRA
Image
Customer Rating
4.1 / 5
5 / 5
5 / 5
5 / 5
Price
Check
Check
Check
Check
VEHICLE CONNECTION
MaxiFlash Elite & MaxiSYS VC-100
MaxiFlash VCI INCLUDING LATEST PROTOCOLS
MaxiFlash VCMI INCLUDING LATEST PROTOCOLS
COLOR SCREEN
9.7-INCH TOUCHSCREEN
2048X1536DP1/LED COLOR SCREEN
9.7-INCH TOUCHSCREEN
1536×2048DPI/TFT-LCD ASAHI GLASS
12.9-INCH TOUCHSCREEN
2732×2048DPI/TFT-LCD ASAHI GLASS
PROCESSOR
1.8GHz QUAD-CORE
2.3GHz+1.7GHz OCTA-CORE
MEMORY/RAM
64GB SSD/2GB RAM
128GB SSD/4GB RAM
256GB SSD/4GB RAM
BATTERY
13,600mAh
15,000 mAh,8 HOURS CONTINUOUS OPERATION
18,000 mAh,8 HOURS CONTINUOUS OPERATION
CAMERA
8MP
16MP REAR/5MP FRONT
DOCKING STATION
INCLUDED
SOFTWARE
OPERATING SYSTEM
ANDROID 4.4.4
ANDROID 7.0
SOFTWARE UPDATES
2Years FREE
1Year FREE
AUTOMATIC DETECTION
AUTO-VIN/AUTO-SCAN
SCANVIN/AUTO-VIN/AUTO-SCAN
SPLIT SCREEN DISPLAY
VIEW MULTIPLE FUNCTIONS AT ONCE
ADVANCED VCMI 5-IN-1DEVICE
VCI,OSCILLOSCOPE,MULTIMETER, WAVEFORM GENERATOR,CAN BUS CHECK
REPAIR ASSIST
GUIDED PROCEDURES WITH DTC ANALYSIS & FAULT CODE SOLUTIONS
TOPOLOGY MODULE MAPPING
COLOR CODED ALL SYSTEM STATUS SCREEN ON SUPPORTED VEHICLES
RELEVANT CASES
DTC TROUBLESHOOTING
DTC TROUBLESHOOTING REPAIR TIPS VIDEO LIBRARY
TECHNICAL SERVICE BULETINS
AVAILABLE ON SELECT VEHICLES
FEATURES
VEHICLE DIAGNOSTICS
PASSENGER/LIGHT DUTY SOME MEDIUM DUTY
BASIC & SPECIAL FUNCTIONS
US,ASIAN & EUROPEAN
1996 AND NEWER
OBDII TEST MODES
ALL 10 TEST MODES LIVE & FREEZE FRAME/ENHANCED MODE 6
SERVICE RESETS
17+SERVICE FEATURES
26 SERVICE FEATURES
DIESEL PM
RESET DIESEL EMISSIONS LIGHT & MEDIUM DUTY VEHICLES
SYSTEM DIAGNOSTICS
ACCESS ALL MODULES IN ALLL SYSTEMS
COMPONENT ACTIVATIONS
BI-DIRECTIONAL CONTROL
ENHANCED FUNCTIONS
ADVANCED CODING +ADAPTATIONS
We offer Best price For Autel ULTRA $4,399 + Free MSOAK/MV480
We offer Best price For Autel MS909 $2,800 + Discount MV105/MV108/MV480
We offer Best price For Autel MS919 $3,699 + Free MV105/MV108/MV480/MSOAK


Autel Maxisys MS909 Scan Tool Reviews:
Click Check Amazon Today's Offers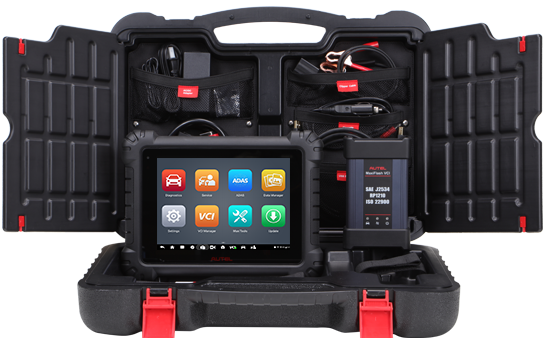 The Autel Maxisys MS909
The Maxisys MS909 combines diagnostics, service, extensive live data, channel coding, and ECU reflashing. The MS909 also has further programming options directly within the tool software itself. (focusing on BMW and Mercedes).
Autel Maxisys MS909 BULLET POINTS
Compatibility: it supplied with MaxiFlash VCI with Enhanced Protocol Compatability, which supports D-PDU, RP1210, CANFD. J2534 and DoIP protocols.
All New Software Specialist Capabilities:  Repair Assist, DTC Analysis, Topology Mapping, and Relevant Cases.
Save Time: Quick boot-up time, view real-time data, and use bi-directional control while not being bound by a cord.
Easy to Use:Even right out of the box, minimal setup was involved. Once the scan tool arrived in the shop ,it only needs to register the device on Autel's website in order to perform updates. If you choose to not update it, you can use it out of the box within five minutes."
Good Use Experience:10 inch TFT-LCD touchscreen for swift diagnosis and optimum viewing. The touchscreen is resistant to dirt and oil and the hard rubber surface is treated with high-quality carbon fiber, making the surface texture more refined.
Top Reasons to Choose The Maxisys MS909
Autel updates provide latest OE level coverage for more than 80 US Domestic, Asian and European vehicles, including supercar
Exceptional OE-Level functionality from comprehensive OBDII diagnostics & services to advanced ECU coding and programming
Automatic system and software updates with real-time push message notifications via internet
Interactive Data Logging sessions enable direct contact with Autel Support for first-hand troubleshooting of diagnostic bugs and error
One-stop multitasking designed for ideal management of workshop operations to keep all data files, customer info, and vehicle records well organize
Cloud-based Data Manager saves customer and vehicle records, scanner data and technician notes
New software specialist capabilities
Repair Assistant – This Repair Assist Software displays a list of recommended tests, the completion status and priority for undertaking. Very simply, the higher the priority, the earlier the components should be tested.
System Topology – With System Topology Software, the technician can see a colour coded topology display for all vehicle systems and their status on one page.The display shows the structure of communication between modules, and gives the ability to press on a system module to display any DTC's and access the system.
DTC Analysis – The DTC Analysis describes possible causes and solutions for vehicle faults. Currently available on GM, Ford, Toyota, Lexus, Nissan, Honda, VW, Audi, BMW, FCA, Mercedes.
Relevant Cases – The software automatically recommends repair processes that may be relevant to the vehicle and fault. These repair cases/suggestions provide the technician with great insight when diagnosing and repairing vehicle faults.
Tech Services Bulletins – See official announcements issued by vehicle manufacturers regarding common problems including vehicle modules, DTCs, repair methods, program updates and recall stategies.
Broad Vehicle Coverage: Autel MS909 features a long list of supported vehicles follows: BMW, Ford, Volkswagen, Audi, GM, Ford, Chrysler, Nissan, Honda, Toyota Lexus, Jaguar, Land Rover, Mercedes Benz, Hyundai, Kia, Volvo, JLR, and Porsche.
How the Autel MS909 differs from the older Elite and MS908s:
More memory: 128GB Memory
VCI interface with updated J2534 compatible with DoIP, MEGACAN, and more!
Topology M Module Listing organizes and displays modules by communciation network
Faster processor
Does not include a docking station
Does not include early OBD-II adapters!
Android 7.0
1-year subscription with renewable warranty.
Specifications
Processor: Samsung Exynos 8895V octa-core Processor (2.3GHz Quad-core Mongoose + 1.7GHz Quad-core A53)
Memory :4GB RAM & 128GB On-board Memory
Display: 9.7 inch TFT-LCD with 1536 x 2048 resolution & capacitive touchscreen
Connectivity:WiFix2 (802.11 a/b/g/n/ac 2×2 MIMO), BT v.2.1 + EDR, GPS ,USB 2.0 (Two USB HOST Type A, one USB mini device),  HDMI 2.0,  SD Card (Support up to 256GB)
Camera: Rear: 16 Megapixel, Autofocus with Flashlight, Front: 5 Megapixel
Sensors: Gravity Accelerometer, Ambient Light Sensor (ALS)
Audio Input/Output: Microphone, Dual Speakers, 3-Band 3.5 mm stereo/standard headset jack
Power and Battery:15000mAh 3.8 V lithium-polymer battery, Charging via 12 V AC/DC power supply with the temperature between 0°C and 45°C
Input Voltage: 12V/3A Adapter
Operating Temp. :0 to 50°C (32 to 122°F)
Storage Temperature: -20 to 60°C (-4 to 140°F)
Dimensions :(WxHxD) 304.4 mm (11.98″) x 227.8 mm (8.97″) x 42.5 mm (1.67″)
Weight: 1.66kg (3.66lbs)
Accessories
1 x Main Unit
1 x MaxiFlash VCI
1 x Main Cable V2.0
1 x USB 2.0 V2
1 x AC/DC Adaptor (12V)
1 x Cigarette Lighter
2 x Light Fuse
1 x Quick Reference Guide
1 x Packing List
1 x Soft Cloth
1 x Carrying Case
FQA
Question: Does this model (909) come with bluetooth capability's to connect via OBD2?
Answer: Yes, the J2534 VCI do connect via bluetooth.
Question: is the maxiflash vci also the j2534 for pcm/ecu programming?
Answer: Yes, that is correct. The VCI may be connected to a computer through USB in order to use OE diagnostic and programming software.
Some videos help you better understand Autel Maxisys MS909
1. Autel MaxiSYS MS909 Passenger Seat Occupancy Sensor Calibration
2. Autel MaxiSys MS909 / unboxing The last 2020 from Autel